Secure payment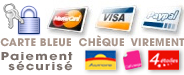 Our offer of secure payment
You can adjust your order directly by the secure site of our Bank LCL.
We recommend this mode of payment for faster processing.
Simply choose "payment card" when ordering.
You will then be redirected to the Bank's server.
All these transactions are secure 100% with the 3DS system (Verified By Visa and MasterCard SecureCode).
To properly verify that you are the holder of the card, you need to enter a password (i.e. a code received by SMS on your number registered with your bank).
Payment by bank transfer
You can pay your order by bank transfer SEPA.
Just choose "payment by bank transfer" during your order.
After you have validated the last step of the order, the bank details (IBAN / SWIFT) you will be displayed.
Other payment methods
We do not accept payments by Paypal, cheques, nor the cash on delivery.